Browse the full live and silent auction catalog AuctionCatalog2023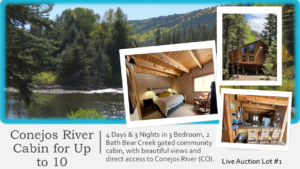 Conejos River Cabin for Up to 10
4 days & 3 nights in 3 bedroom, 2 bath Bear Creek gated community cabin, with beautiful views and direct access to Conejos River, Colorado. Live Auction Lot #1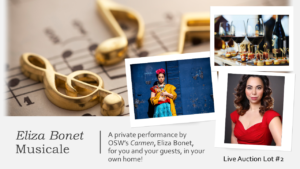 Eliza Bonet Musicale
A private performance by OSW's Carmen, Eliza Bonet, for you and your guests in your own home! Live Auction Lot #2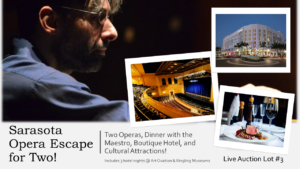 Sarasota Opera Escape for Two!
Two operas, dinner with the Maestro Anthony Barrese, Boutique Hotel, and Cultural Attractions!
Live Auction Lot #3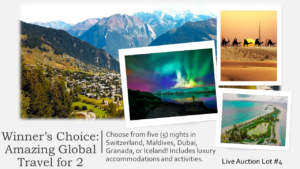 Winner's Choice: Amazing Global Travel for 2
Choose from five (5) nights in Switzerland, Maldives, Dubai, Granada, or Iceland! Includes luxury accommodations and activities.
Live Auction Lot #4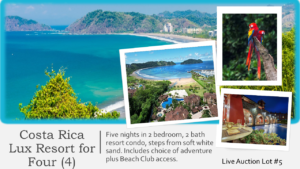 Costa Rica Lux Resort for Four (4)
Five nights in 2 bedroom, 2 bath resort condo, steps from soft white sand. Includes choice of adventure plus Beach Club access.
Live Auction Lot #5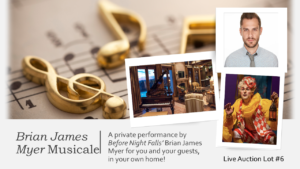 Brian James Myer Musicale
A private performance by Before Night Falls' Brian James Myer for you and your guests, in your own home!
Live Auction Lot #6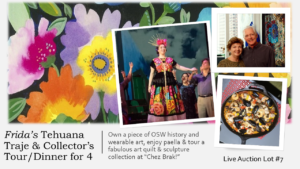 Frida's Tehuana Traje & Collector's Tour/Dinner for 4
Own a piece of OSW history and wearable art, enjoy paella & tour a fabulous art quilt & sculpture collection at "Chez Brak!"
Live Auction Lot #7