THIS PRODUCTION HAS PASSED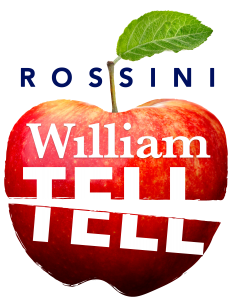 – New Mexico Premiere! – 
PERFORMANCE DATES:
Sunday, October 22, 2017 2pm
Wednesday, October 25, 2017 7:30pm
Friday, October 27, 2017 7:30pm
Sunday, October 29, 2017 2pm
---
William Tell – more than just an overture.
The last opera he ever wrote and considered Rossini's magnum opus, William Tell tells the dramatic story of the Swiss legend. You've probably heard the overture while watching reruns of The Lone Ranger, and know the part where he shoots an apple off of his son's head, but do you remember how he overthrew the tyrannical leader of Austria?
Experience the epic tale live, with baritone Sean Anderson at the helm of the drama and Maestro Anthony Barrese back in front of the orchestra. Called a piece "rendered with unquestionable superiority…" by Hector Berlioz, William Tell is not to be missed.
CAST
Guillaume Tell / Sean Anderson
Hedwige / Claudia Chapa
Jemmy / Sharin Apostolou
Mathilde / Caroline Worra
Arnold Melcthal / Matthew Vickers
Gesler/Justin Hopkins
Walter Furst/Jeffrey Beruan
Leuthold/Paul Bower
Melcthal/Hans Tashjian
Ruodi/Xavier Prado Caceres
Rudolphe/Joseph Cordova
Conductor / Anthony Barrese
Stage Director / Nathaniel Merchant
-Performed in French-
-English translations are projected above the stage for all operas-
Thanks to the following funders for their support: