Cabaret Seating – Learn More & Book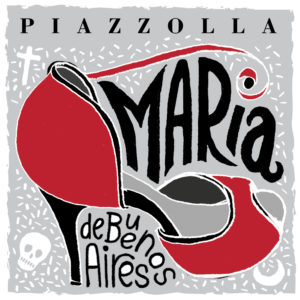 PERFORMANCE DATES:
Sunday, Feb. 17, 2019 2pm
Wednesday, Feb. 20, 2019 7:30pm
Friday, Feb. 22, 2019 7:30pm
Sunday, Feb. 24, 2019 2pm
All performances at the NHCC Journal Theatre – directions
---
Maria de Buenos Aires – Piazzola's masterwork and a mirror to the soul of Buenos Aires.
The story goes that Piazzolla composed his only opera entirely on the bandoneón. This surrealist depiction of the titular Maria's sleepwalk through violence, death, the afterlife, and rebirth effortlessly weaves classical contrapuntal techniques with milongas, cabarets, and mid-century jazz.
Come experience the compelling sounds of late-night tango culture and the thrilling dance through the underbelly of Buenos Aires. Anthony Barrese conducts.
CAST
Maria / Denise Wernly Alsina
El Payador / Efrain Solis
El Duende / Cristina Baccin
Dancers / Pablo Rodriguez and Eva Garlez
Conductor / Anthony Barrese
Stage Director / Octavio Cardenas
-Both English and Spanish supertitles will be projected above the stage for this production-