Cabaret Seating – Learn More & Book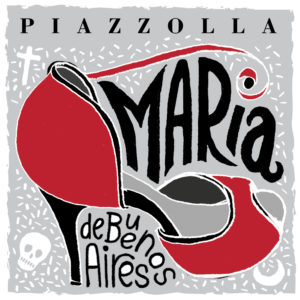 Box office: 505-243-0591 x 1
PERFORMANCE DATES:
Sunday, Feb. 17, 2019 2pm
Wednesday, Feb. 20, 2019 7:30pm
Friday, Feb. 22, 2019 7:30pm
Sunday, Feb. 24, 2019 2pm
All performances at the NHCC Journal Theatre – directions
---
Maria de Buenos Aires – Piazzolla's masterwork and a mirror to the soul of Buenos Aires.
The story goes that there was no piano in Astor Piazzolla's vacation home where he spent the summer of 1968 working with the poet Horacio Ferrer on an operita, ("little opera"), so he composed it on the bandoneón. The result was Maria de Buenos Aires, a surrealist Nuevo tango opera, combining classical contrapuntal techniques learned from Nadia Boulanger with the vertically harmonic milongas and mid-century jazz. An economical cast of two operatic voices and a narrator inhabit the seedier parts of an urban environment – bars and brothels. The characters are both vividly immediate and also mysterious and supernatural. The titular Maria sleepwalks through scenes of violence, her burial and afterlife, until she gives birth to a new version of herself.
CAST
Maria / Denise Wernly Alsina
El Payador / Efrain Solis
El Duende / José M. "Pepe" Gallardo
Dancers / Pablo Rodriguez and Eva Garlez
Conductor / Anthony Barrese
Stage Director / Octavio Cardenas
Running time: 90 minutes
-English supertitles will be projected above the stage for this production-