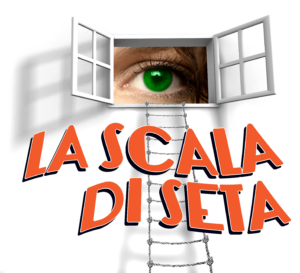 Friday, Sept 10 at 7:30pm
Saturday, Sept 11 at 7:30pm
Sunday, Sept 12 at 7:30pm
OUTDOORS at the Albuquerque Museum of Art & History Amphitheater
---
September in Albuquerque is one of the most beautiful times of year; when our torrid late summer heat gives way to pleasantly cool evenings. Opera Southwest is pleased to bring the music of Rossini to the beautiful outdoor setting of the amphitheater at the Albuquerque Museum of Art and History. Nestled in Old Town Albuquerque, the amphitheater has a marvelous natural acoustic for opera. While the outdoor setting is ideal in this time of COVID, an outdoor series at the Museum has long been an artistic goal of Opera Southwest.
Over the last decade, Opera Southwest and Artistic Director Anthony Barrese have carefully cultivated the music of Rossini, and no company in the United States has staged more of his operas.
One of Rossini's early commercial successes that launched his meteoric opera career, La Scala di Seta was composed for the Teatro San Moise in Venice. While the opera is little performed today, the famous overture has never fallen out of popular rotation.
La Scala di Seta literally means "the silken ladder". This eponymous ladder is used by the tenor, Dorvil, to secretly rejoin his wife Giulia. They must use this subterfuge because their wedding is a secret, and they live at the home of Dorvil's tutor, Dormont. What Dorvil and Giulia do not know, though, is that Dormont has promised that Giulia will marry his friend, Blansac, who unfortunately is secretly in love with Giulia's cousin, Lucilla. This setup, fit for a 1950s sitcom, leads the audience through numerous comedic twists and turns before ending in a resoundingly joyous finale.
Before the opera, for an additional charge, join Opera Southwest for a VIP Wine and Tapas reception on the balcony that overlooks the Amphitheatre.
CAST
Giulia / Robin Steitz
Dorvil / David Walton
Germano / Sean Stanton
Blansac / Lloyd Reshard Jr.
Lucilla / Laura Soto-Bayomi
Dormont / Kevin Harvey
Conductor / Anthony Barrese
Director/ Martha Collins
Music / Gioachino Rossini
Libretto / Giuseppe Maria Foppa
Running time: 90 minutes
-English translations are provided via LiveNote software directly to your smartphone or other device-
-Support for this project has been provided by the City of Albuquerque