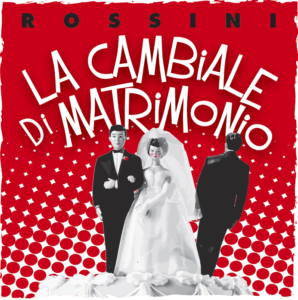 – New Mexico Premiere! –
PERFORMANCE DATES:
Friday, March 8, 2019 7:30pm
Saturday, March 9, 2019 7:30pm
Sunday, March 10, 2019 7:30pm
Tickets are general admission in three tiers, and the "Premium" and "Under-Balcony" seating will be cabaret-style at tables.
All performances at Las Puertas – directions
---
La Cambiale di Matrimonio – Rossini lovers rejoice!
We brought Albuquerque Rossini's very last opera, William Tell, and now we're doing his very first. Rossini's one act opera is full of love, humor, and trickery. His familiar quickfire parlando (spoken-style) lines and exuberant finale perfectly match the hilarious libretto. Come watch our new class of apprentices skillfully navigate Rossini's genius melodic game. Anthony Barrese conducts a full orchestra and our first opera cast entirely from our talented pool of apprentice artists.
All performances of La Cambiale di Matrimonio are at Las Puertas – a beautifully renovated downtown warehouse located at 1512 1st Street NW. Seating for this event will be at tables, cabaret style.
CAST
Tobias Mill / Andrew Pardini
Fanny / Jennifer Noel
Edward Milfort / Gabriel Deyarmond
Slook / Darren Drone
Norton/ Karl Buttermann
Clarina/ Max Potter
Conductor / Anthony Barrese
Director/ Susan Stone Li
-English translations projected above the stage for all operas-