Don Giovanni
This Production is Over.
Opera Southwest Box Office: 505-243-0591
National Hispanic Cultural Center Box Office: 505-724-4771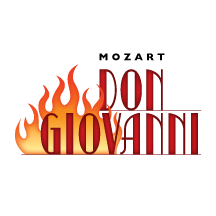 PERFORMANCE DATES:
Sunday, October 20 2pm
Wednesday, October 23 7:30pm
Friday, October 25 7:30pm
Sunday, October 27 2pm
---
Don Giovanni is a dangerously clever libertine who leaves a trail of mayhem in his wake. Defying heaven and earth's laws in his relentless pursuit of self-gratification, he remains one step ahead of justice from his victims – until he runs into a supernatural force that he cannot outwit or kill. An immense dramatic creation, Danish philosopher Soren Kierkegaard called it the perfect opera, a "work without blemish".
Opera Southwest honours the genius of the master with an intelligent new staging that brings the libertine Don into the notorious world of Hollywood in the 1920s. Brought to you by the same creative team as our recent Madama Butterfly, Otello and Barber of Seville, nationally-known Scenic Designer Carey Wong and our very own David Bartholomew.
Baritone Timothy Mix (Escamillo, Carmen 2010) makes his triumphant return to Opera Southwest as the titular scoundrel.
CAST
Don Giovanni / Timothy Mix
Donna Anna / Lindsay Ohse
Donna Elvira / Emily Ezzie
Don Ottavio / Heath Huberg
Leporello / Ron Lloyd
Zerlina / Heather Phillips
Masetto / Paul Bower
Commendatore / Michael Gallup
Stage Director / David Bartholomew
Scenic Design / Carey Wong
Conductor / Anthony Barrese