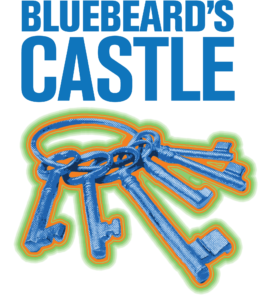 Tickets on sale soon!
Sunday, October 22, 2023 @ 2pm
Friday, October 27th, 2023 @ 7:30pm
Sunday, October 29th, 2023 @ 2pm
At the National Hispanic Cultural Center Albuquerque Journal Theatre
---
Music / Béla Bartók
Libretto / Béla Balázs
Duke (not a pirate)
Enter Bluebeard's Castle if you dare! Bartók's chilling one-act opera is the story of Judith, the young new wife of the menacing Duke Bluebeard, who unlocks the seven forbidden doors in her husband's castle and is eventually confronted by the women he has already loved and murdered. This production has us working in collaboration with set designers from Meow Wolf. This gothic horror is perfect for the Halloween season.
Join us in the lobby of the National Hispanic Cultural Center for an afterparty with food and a cash bar.
CAST

Duke Bluebeard / Justin Hopkins
Judith / Andrea Hill
CREATIVE TEAM
Conductor / Anthony Barrese
Director / Xinxin Tang
Scenic Designer / Lance Ryan McGoldrick & David Cudney
Costumes /
Wigs & Makeup / Jacqueline Chavez
Lighting / Daniel Chapman
Chorus Master / Aaron Howe
Running Time: 1 hour and 10 minutes with no intermission
-English translations are projected above the stage for all operas-