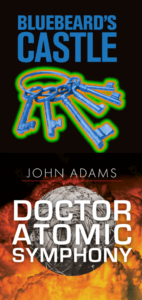 Sunday, October 22, 2023 @ 2 pm
Friday, October 27th, 2023 @ 7:30pm
Sunday, October 29th, 2023 @ 2pm
At the National Hispanic Cultural Center Albuquerque Journal Theatre
---
Oppenheimer the film has ignited a fervor of interest in the creators of the atomic bomb, their personalities, and the complex moral and psychological problems they faced. Opera Southwest invites you to join us for the thrilling Doctor Atomic Symphony, adapted from the opera.
But that's just one part of this extraordinary experience.
Doctor Atomic is an ideal yet unexpected pairing with Bluebeard's Castle, a chilling one-act opera based on the dark fairytale of Judith (Andrea Hill), the young new wife of the menacing Duke Bluebeard (Justin Hopkins), who unlocks the seven forbidden doors in the Duke's castle and is ultimately confronted by the women he has already loved.
Although on the surface these are quite different works, there are many unexpected musical, symbolic, psychological, and even historical intersections that await your discovery.
---
Bluebeard's Castle
Music / Béla Bartók
Libretto / Béla Balázs
Sung in English
CAST

Duke Bluebeard / Justin Hopkins
Judith / Andrea Hill
CREATIVE TEAM
Conductor / Anthony Barrese
Director / Xinxin Tang
Scenic Designer / Lance Ryan McGoldrick & David Cudney
Costumes / Kaylee Silcocks
Wigs & Makeup / Jacqueline Chavez
Lighting / Daniel Chapman
Chorus Master / Aaron Howe
Running Time: 60 minutes
Doctor Atomic Symphony
Composer: John Adams
Based on the opera Doctor Atomic
Premiered August 21, 2007
Running time: 25 minutes