A Way Home
Ethan Frederick Greene, Composer and Irene Keliher, Librettist
This production is over. Read the Journal article here.
---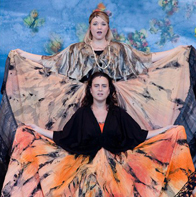 A Way Home is a new opera for middle and high school students, as well as families, exploring the roots of cultural identity. Gracie and her father travel from Texas to Mexico to scatter her mother's ashes in the Oyamel firs in Michoacan. The spirit of Gracie's mother in the form of a monarch butterfly helps guide them on their epic journey. This is a scary trip for both since Gracie and her father must meet her angry grandfather for the first time and find a suitable place for the ashes in an unknown forest. As a result of the journey Gracie finds, internalizes and comes to honor her roots in Mexican culture. She and her mother find their way home. In English and Spanish, this is an opera intended for middle and high school students funded by the Brabson Library and Educational Foundation.
---
Download the study guide here.
Video clips:

---
Composer: [popup url="artists/ethan-frederick-greene"]Ethan Frederick Greene[/popup]
Conductor: Domenico Boyagian
Stage Director: [popup url="artists/david-bartholomew"]David Bartholomew[/popup]
Scenic and Lighting Design: [popup url="artists/john-malolepsy"]John Malolepsy[/popup]
Augustin – Paul Bower
Graciela (Gracie) – Cecilia Duarte
Thomas – Seth Hartwell
Karani – Elizabeth Hott
Marisol – Cammy  Cook