The venue for BOTH Lohengrin performances will be the V. Sue Cleveland Concert Hall
LOCATION FOR ALL PERFORMANCES:
V. Sue Cleveland Concert Hall,
4800 Laban Rd NE
Rio Rancho NM, 87144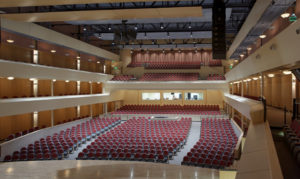 FROM ALBUQUERQUE:
Get on I-25 N
Follow I-25 N to Bernalillo. Take exit 242 from I-25 N
Continue on US-550 N to Paseo del Volcan (347)
Turn Left on Paseo del Volcan to Iris Rd. NE
Turn Right on Iris Rd. NE
Follow Iris Rd. NE to turn Left on Laban Rd. NE
Turn Left to enter the V. Sue Cleveland parking lot
PLEASE NOTE!
There is ample parking in front of the concert hall
The times in the image below are estimated (with no traffic) – please allow plenty of time to arrive to the concert hall