Guild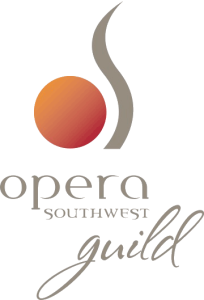 Whether you are new to opera or a longtime fan, membership in the Opera Southwest (OSW) Guild offers you an unparalleled local opportunity to enjoy and learn more about opera while also supporting OSW.
As the volunteer support group for OSW, the Guild will allow you to:
LEARN MORE ABOUT OPERA
Guild members can enjoy an array of talks, listening groups and other learning possibilities at no, or minimal, charge. Informal talks by local opera notables, usually in private homes, can expand your appreciation for the art form. Guild listening groups preview and discuss operas.
---
HELP OPERA THRIVE
The OSW Guild is proud to be a major donor to Opera Southwest, largely through our members' dues. In 2014, the Guild donated $4,500 to the company, and in 2015 we expect to exceed that.
The Guild Gift Shop operates during Opera Southwest performances and offers a selection of well-priced, quality merchandise to tempt almost any opera goer. Guild members have many enjoyable opportunities to help OSW thrive in Albuquerque. These include providing hospitality to visiting artists and assisting at the Guild gift shop.
And did we mention that Opera Southwest Guild members also have fun? Our annual holiday party in early December includes an old-fashioned cookie swap as well as camaraderie and plenty of good food and drink.
Annual membership starts at $30 for an individual and $60 for a couple. Higher categories with added benefits are available at $50/$80 and $100/$150.
Please download this Guild membership form in MS Word format, print and complete it, and send with your check payable to Opera Southwest Guild to:
Opera Southwest Guild
P.O. Box 37167
Albuquerque, NM 87176-7167
For more information, you can also contact us here.