Press – OSW in the News
OPERA NEWS, SEPTEMBER 2012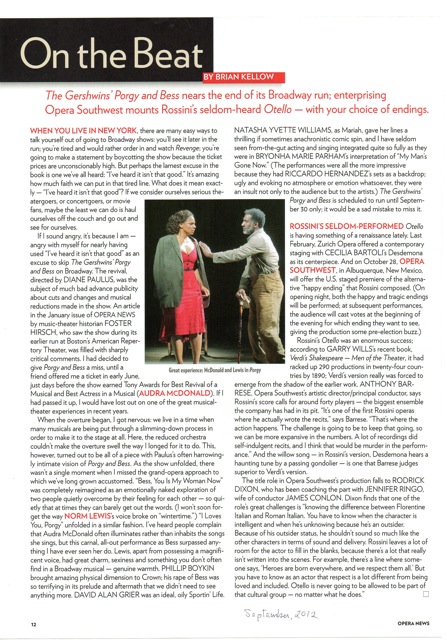 OPERA SOUTHWEST NAMES MANAGING DIRECTOR
Opera Southwest, Albuquerque, NM, has announced the hiring of Anthony Zancanella as Managing Director to provide administrative leadership to the company. Mr. Zancanella comes to Opera Southwest following his graduation from the University of Cincinnati with an MBA in Arts Administration. While in Cincinnati he served as Operations Manager to the Vocal Arts Ensemble of Cincinnati, a 24-voice chamber choir and worked with the Cincinnati May Festival, America's oldest continuous choral festival. Mr. Zancanella has also studied arts administration at Audencia Ecole de Management, a top business school in Nantes, France.
An Albuquerque native, he studied music at the University of New Mexico, receiving his B.M. in Voice Performance. Mr. Zancanella has been deeply involved in Albuquerque performing arts, having served as treasurer of Opera Southwest and The 505 Chorus. He is also an active participant in Albuquerque's choral community.
Board President Woody Kuehn said, "I've known and worked with Tony before and am excited to have his expertise and enthusiasm back at Opera Southwest. Besides his commitment to opera as an art form, he brings considerable business skills to our organization and is the right person to lay the foundation for our continued growth." Opera Southwest is proud to have brought professional opera to Albuquerque audiences since 1972, and celebrates its fortieth anniversary this season with performances of Rossini's Otello and Puccini's Madama Butterfly at the National Hispanic Cultural Center and a second year of performances of a new, short family opera, A Way Home, the first winning opera of the Brabson Composers Competition.
Contact: Mary Nuñez, Press Representative
Opera Southwest
mnunez5494@aol.com
505-243-1883